Plan Your Stay
---
Please note - we have reduced activities and capacity for the off season.
Reserve a room at Rocky's Retreat and your herd will enjoy their time with our dinosaurs.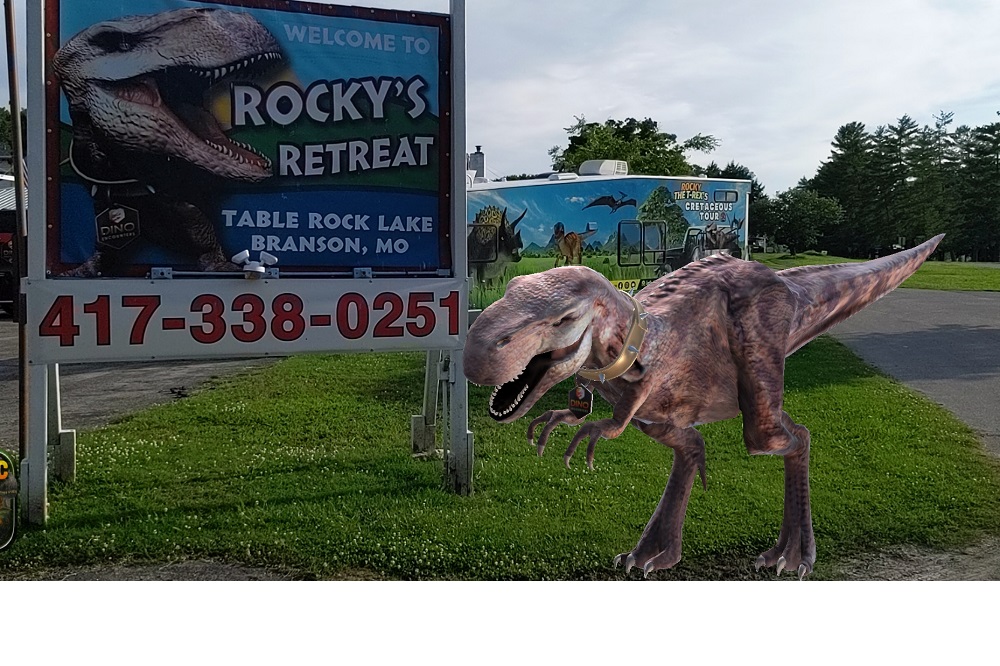 Check your herd into a world of adventure
---
Under our roof, the dinosaurs roam. From morning to night there are endless things to do at Rocky's Retreat to entertain every member of your herd.
Ride Rocky's Friends
Visit Tinker's Fossil Skeleton
Swim in our Pool
Shop at the Mosastorus Bait & Tackle Dinosaur Emporium
Tinker is visiting
---
Tinker, the most intact juvenielle T-Rex ever found is visiting Rocky's Retreat. Come see both dinosaurs and many others.
Most complete juvenile T-Rex skeleton
Discovered in North Dakota
About 16 Years Old
About One Quarter full size weight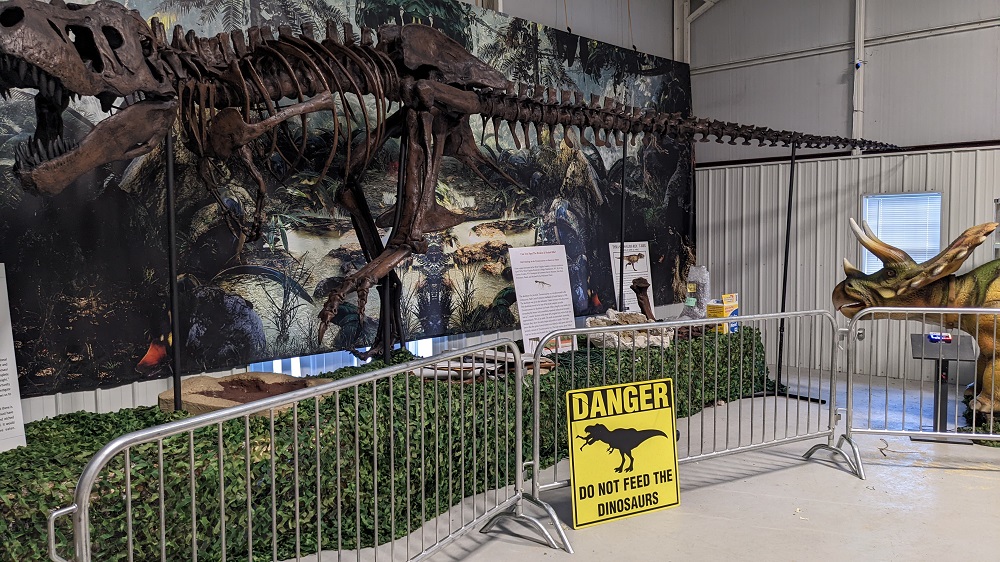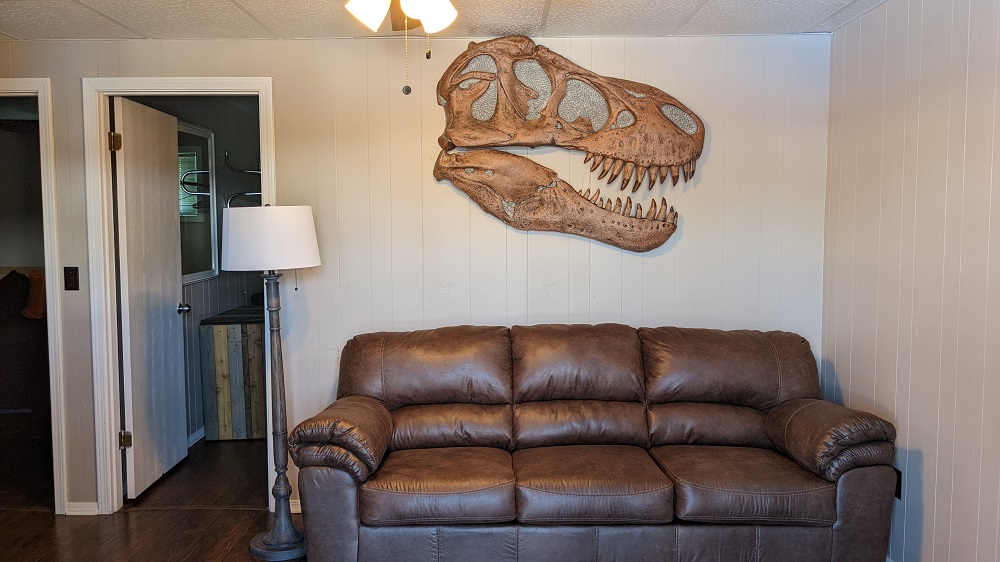 Every room is a museum
---
Every room is a museum at Rocky's Retreat. All the rooms have dinosaur themed decor and interactive augmented reality artwork. Play our augmented reality dinosaur scavenger hunt and interact with life size dinosaurs around the retreat!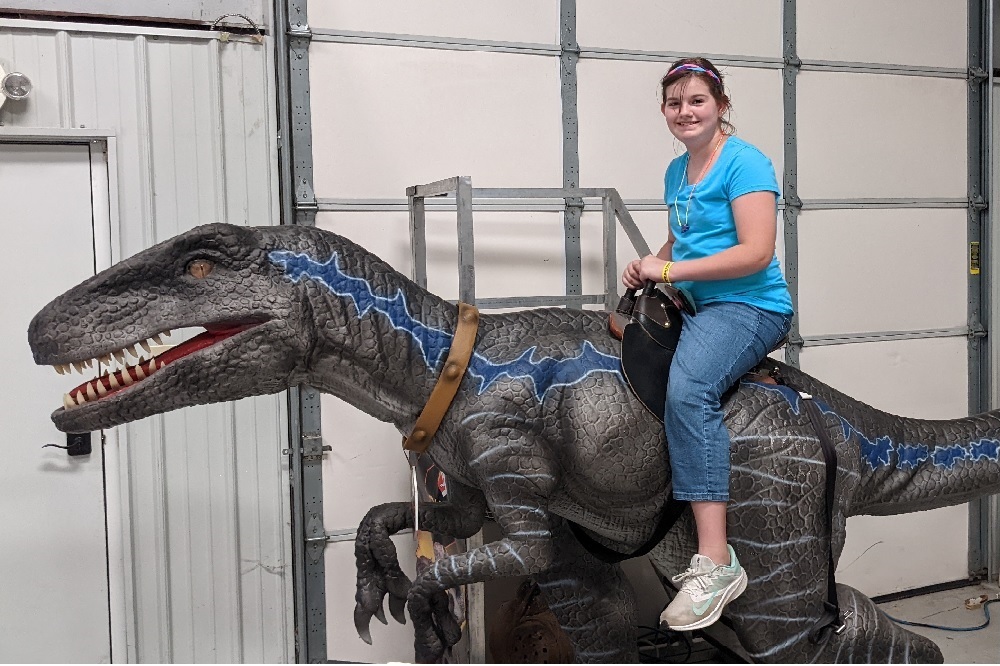 Ride the Dinosaurs!
---
We have several dinosaurs trained for rides. Try out your riding skills!
Tyrannosaurus Rex
Velociraptor
Triceratops
Brachiosaurus
What's happening at Rocky's Retreat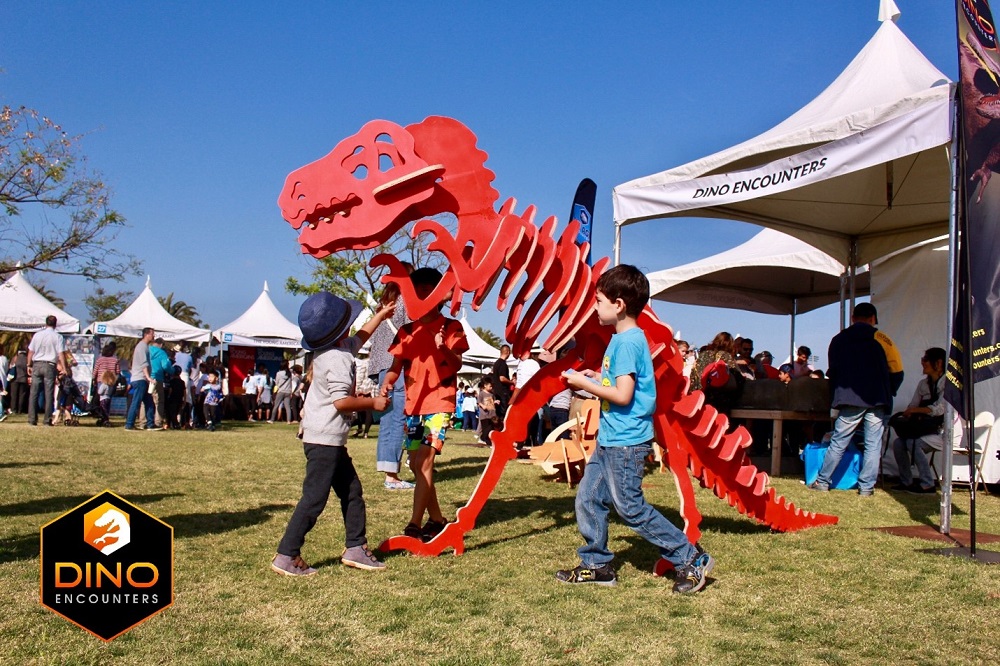 Activities
Free, fun and educational activities for the whole family to participate in.
Jurassic Genius Scavenger Hunt!
Character Meet & Greets! Meet Rocky the Trex, Razor a deinonychus, Bumpy an ankylosaurus, Simon a baby brachiosaurus and Scout our Triceratops. Our character have scheduled meet and greets throughout the day!
Scientific demonstrations
Puzzles - No matter what age, we have a fun dinosaur puzzle for you. Get a sense for the dinosaur anatomy by assembling one of our dinosaur skeleton puzzles.
Digs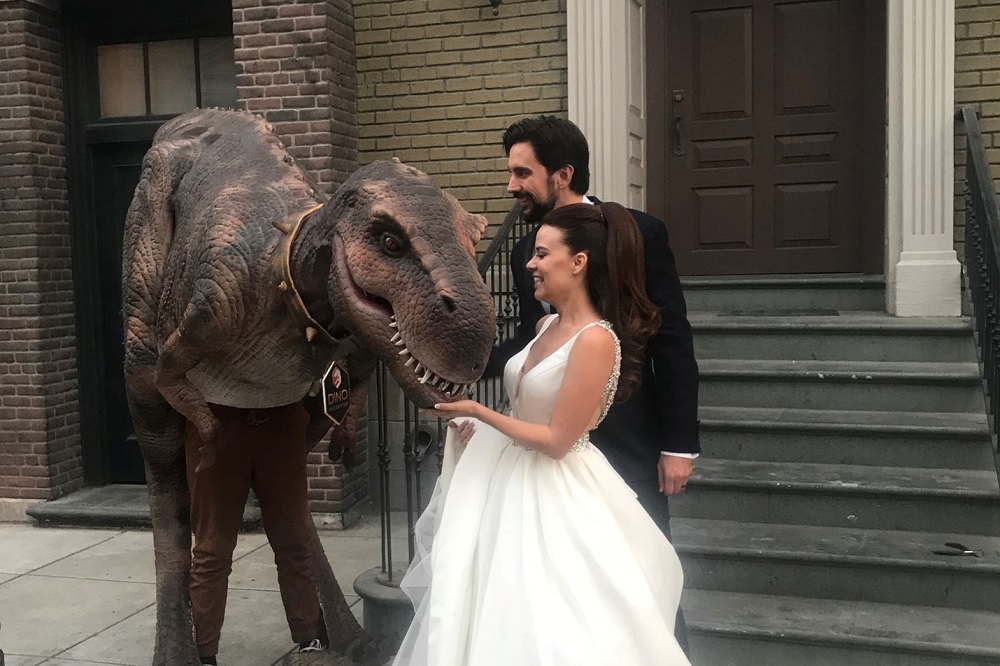 Events
Whether it is a birthday, baby shower, wedding, or corporate event, consider Rocky's Retreat as the perfect Cretaceous themed venue.
Take a look at some of our famous birthday party packages.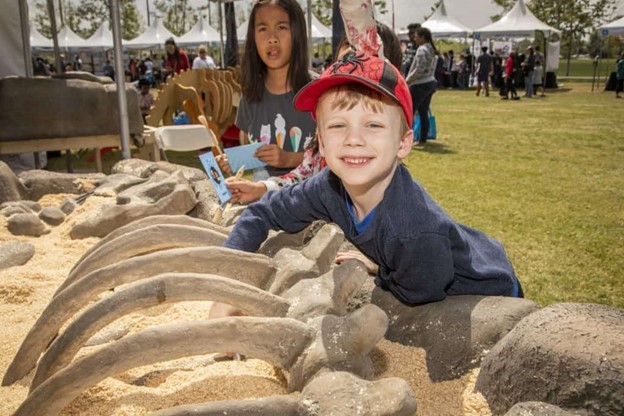 Education
Field Trips, School assemblies, Boy Scout and church groups. Our curriculum and hands on interactive presentations align with next generation science standards and Missouri Core requirements. In addition to the Dino Encounters 4.5 Billion years of earth's history, we have Ice Age Encounters, Mars Encounters and the Science behind Lewis and Clark.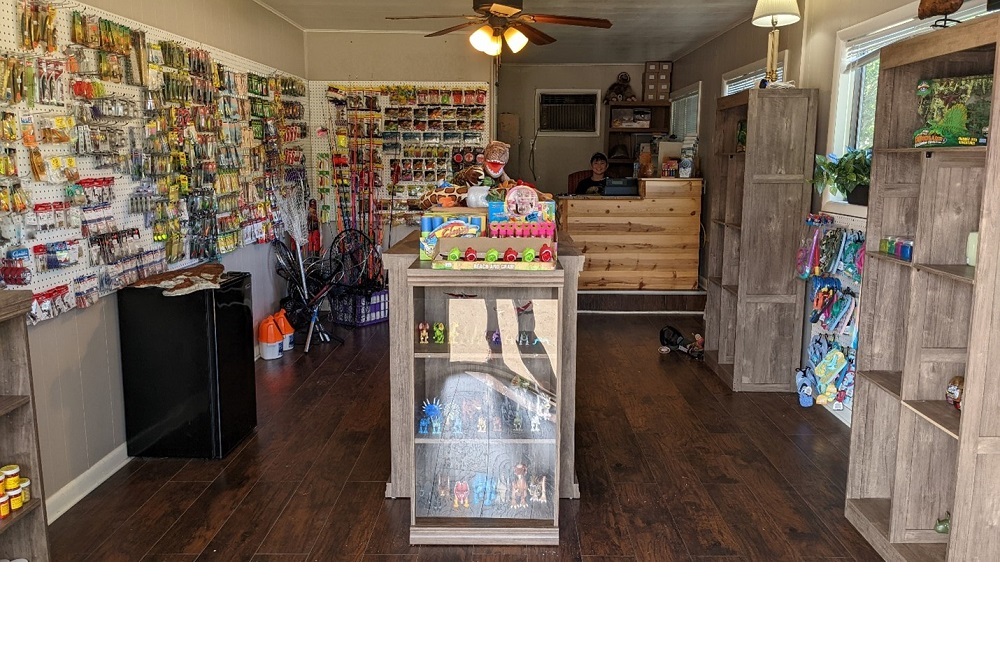 Shopping
Check out our Mosastorus Bait & Tackle Dinosaur Emporium! Are you looking for a unique souvenir? You'll find the latest dinosaur legos, toys, t-shirts, educational toys, and fossils to take home and enjoy as well as the best stocked fishing supplies in the area.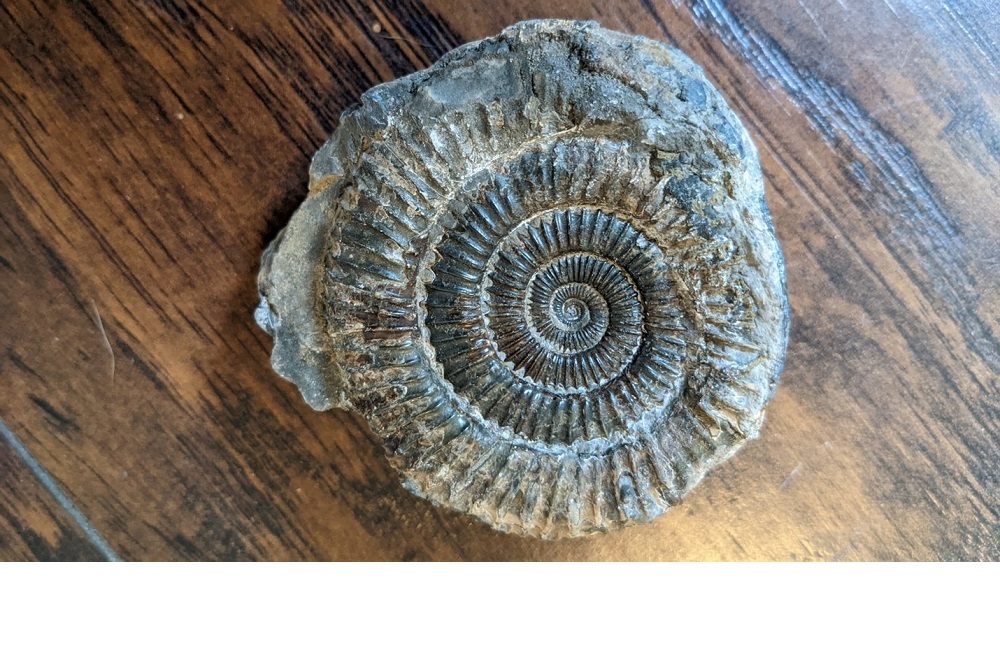 Fossil Excavations
Do you dream of being a paleontologist? Have you ever wondered what it would be like to find a real fossil? Now is your chance to dig for a real fossil and keep what you find! These fossils are imported from the Jurassic Coast of England and are dated to be approximately 150 Million Years Ago!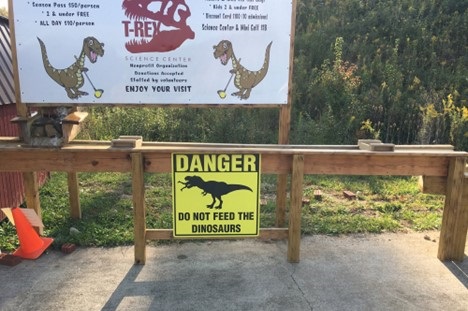 Sluice - Discover Fossils, Gemstones, Minerals And More
Visit the Bone Yard and put on your paleontologist hat and sift through pay dirt for fossils and minerals. Will you be the lucky scientist to find a raptor claw or piece of T-Rex tooth?. Take your collection home in a keepsake bag, complete with an identification card. Start your fossil collection today.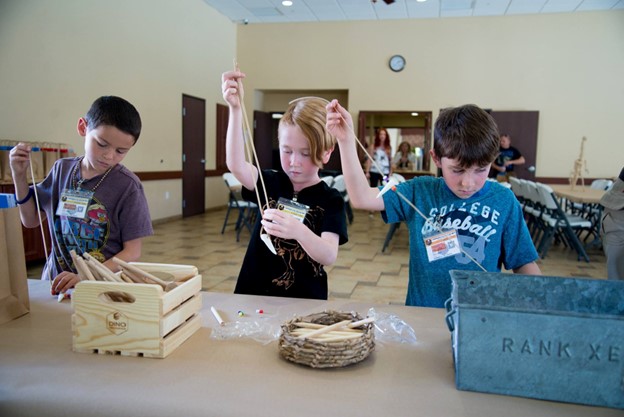 Crafts
Learn about the different fossilization processes or make a dinosaur tooth necklace.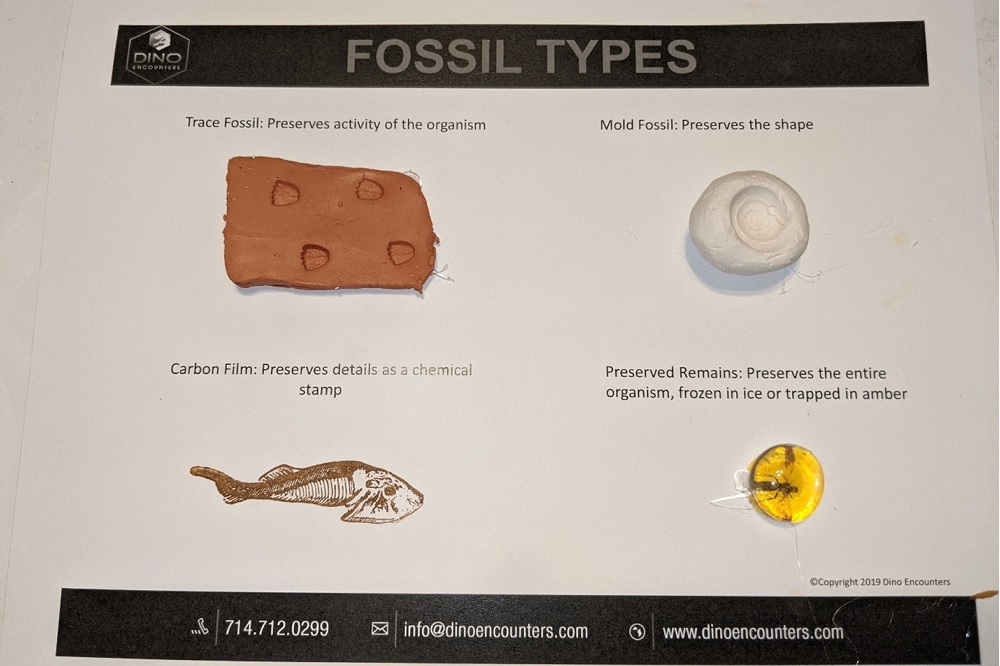 Fossil Types
Learn about the different fossil types.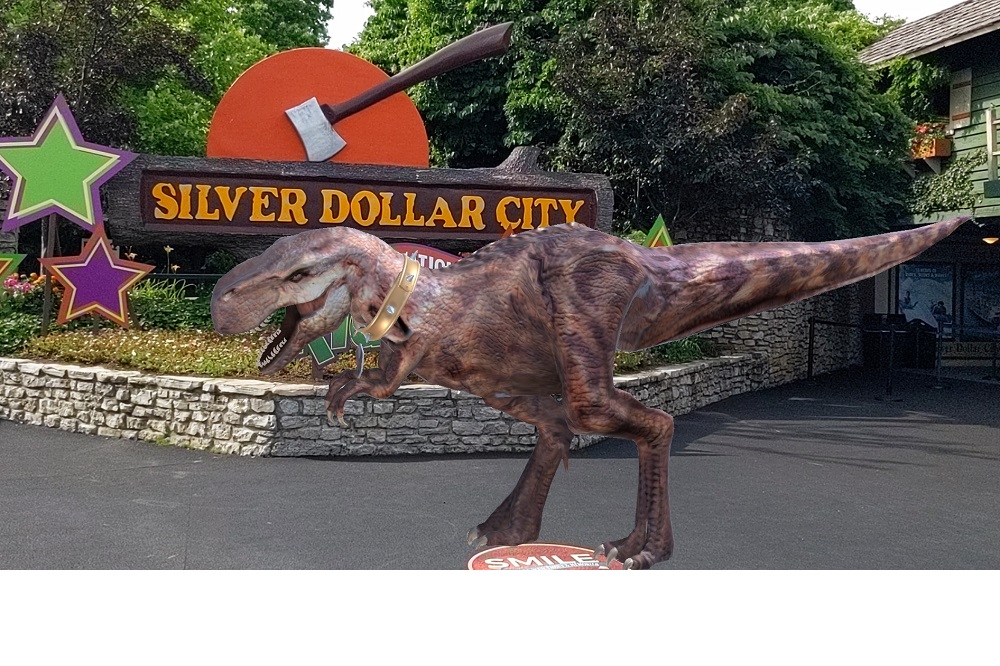 Nearby
Table Rock Lake
Silver Dollar City - Two Miles (no traffic!)
Indian Point Marina - 500ft
Indian Point Campground
Branson
Rocky's Retreat is just two miles south of Silver Dollar City. The largest family owned amusement park in the country complete with roller coasters, water rides, shows, caves, crafts and family dining. In addition, we are less than 500 yards from the famous Table Rock Lake Marina which offers some of the best boating and fishing in the country. Throughout the peninsula are several hiking and nature trails with an abundance of wildlife.
Location
---
Rocky's Retreat
96 Myrtle Lane
Branson, MO 65616
(417) 338-0251
What people are saying about Rocky's Retreat
Brittany
We really enjoyed our stay! It's very family oriented and a perfect place to bring kids. Our girls loved the arcade, dinosaurs, and ice cream. The hosts were great and we plan on staying again.
Airbnb - September 2022
Tatiana
This stay was amazing my boys loved and had such a great experience with all the dinosaurs.
Airbnb - September 2022
Sabrena
Clean, Nice. The people was very nice and the kids had a blast at the pool! After the water park even.
Airbnb - September 2022
Torie
We had an amazing stay it's right off the lake, 5 minutes away from Silver Dollar City, and about 10 minutes from the landing, Can't wait to come back when the salt water pool is open.
Airbnb - March 2022
Jenn
This family ran establishment has put a huge effort into making your experience just that, an experience! They are super nice and responsive and we will definitely be back. The location is PERFECT! You can't go wrong staying here!
Airbnb - May 2022
Michael
Can't beat the location! We picked this location for a Branson trip centered around Silver Dollar City and it was perfect for the value. The location was only a 5 minute drive to the parking lot and was still easy enough to navigate for other Branson attractions such as Dolly Parton's Stampede and the Boat Cruise. The check-in process was easy and the staff was incredibly friendly. Couldn't ask for a better value stay!
Airbnb - March 2022
Rachel
5/5 - This little gem is a wonderful and affordable place to bring the family! The staff members where hospitable and overall so kind! We love how close it is to the lake, Silver Dollar City, yet it is away from all the traffic. It has a peaceful and serene setting with a clean pool and deck to enjoy the views. Perfectly convenient with a little pub to the left and a convenience store to the right. The dinosaur exhibit is so cool, my kids loved it!! The room was clean and stocked with a good size mini fridge and microwave. The bedding was comfy and clean! You can tell the owners have put soooo much TLC into this place. Certainly will return!! Loved it!!! Great local business.
Google - September 2022
Kristen
5/5 - My family, 3 kids and 2 adults came down to Branson for a family vacation. We looked at several resorts, before deciding to stay at Rocky's Retreat. Reasons why we choose this resort, 2 conjoining rooms. 1 with a King size bed and the other with two Full size beds. Was nice to have with our children where they had their own space and we had ours. This resort offers an outdoor pool (salt water), Arcade and also Dinosaur's our Dino lovers could ride on. I mean who wouldn't wanna ride a Dino? Staff is very friendly and helpful for all our needs. The owners (Keri and Tom) went above and beyond to make sure our stay was very enjoyable. Very quiet area and only 15 mins from The Branson Strip, 1 mile from Silver Dollar City and Only 1/4 mile from Indian Point Marina. Which has a restaurant on the water and boat/jet ski rentals. Would highly recommend this resort to all families looking for a quiet off the beaten path resort.
Google - September 2022